What is it? Why do I need one? Where do I get one? How do I get a USDOT Number? These are the most common questions which most commercial truck drivers ask when attempting to register. Getting a USDOT number can be a complicated and exhaustive procedure! Relax, we are here to help!
Getting a USDOT number requires sifting through a plethora of technical information. One checkmark in the wrong box, one miss-crossed "T" or any other simple mistake when specifying your cargo or operation can cost you time and money. We here at DOT Operating Authority urge you to seek our help when applying. Our professional consultants have maintained years of experience filing this application and have been answering this question since our founding. Only our professional staff of consultants can guarantee that your application will be filed correctly and in a timely manner.
Before filing for a USDOT number, you first need to understand just what exactly it is. The USDOT number is a trucking authority filing required through the Federal Motor Carrier Safety Administration that gives drivers the ability to legally act as a carrier, broker, or dispatcher. So just how do you get trucking authority such as the FMCSA DOT number? Through us of course! Contact us today and take your first step in opening your trucking company and making it ready and functional in no time! With DOT Operating Authority, the USDOT registration is quick and easy!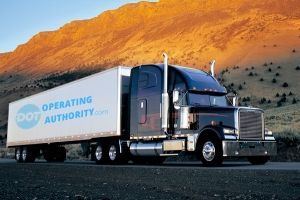 How to Get Your Own DOT Authority
The first (and most important) steps when registering your vehicle is to determine whether or not you need a USDOT Number. This is in accordance with the Federal Motor Carrier Safety Administration (FMCSA). If you fit into any of the categories, we strongly encourage that you start your application process immediately.
How to Start a Trucking Company
To start operating your commercial transportation company, you have the choice of creating a business entity. This can be an LLC or Corporation or act as an individual under a sole proprietorship or DBA.
The numbers and paperwork are tedious for a business. It is difficult to keep track of what information is required for various licensing procedures. DOT Operating Authority seeks to guide you through the first fundamental step for registering your business. We work to guarantee all forms are completed to make sure you are ready when applying for a USDOT number.
What Information Do I Need to Apply For USDOT Number?
If you find yourself wondering, ok I know what it is now, but how do I apply for a USDOT Number? Well, in order to get a USDOT number you'll want to have this data available:
Your company's Employer Identification (EIN), tax identification number, if you already created a company, or your Social Security number if you are acting as an individual.
The names of your company's officers and their titles.
Complete FMCSA application process – via the Unified Registration System.
Enter identifying information to complete the form – This information will include:
Your name or company name
The principal address associated with your business
Company phone number, email address, and fax number
Social security number or the company's IRS tax ID
Declare your operation classification – Your operation classification gives the government an idea of who you will be conducting business for:
Authorize For Hire
Exempt For Hire
Private (property)
US Mail
Private Passenger (non-business)
Migrant
US Mail
Private Passenger (business)
State Government
Local Government
Indian Nation
Check the cargo classification box – This indicates the type of cargo you will be moving in your vehicle. Check all boxes that apply.
Declare if you will transport hazardous materials – Indicate whether you are moving the material as a carrier, shipper, bulk shipper or non-bulk shipper.
If It Asks for a Fee…
Filing a USDOT Number application is FREE. This is often combined with an MC Number application. If you are not on your toes, then you will end up filing both at the same time.
If it requires you to pay a filing fee for your DOT number, then you have filed for both USDOT and MC Numbers jointly.
The MC fee is, unfortunately, non-refundable. If the application is filed incorrectly, then you will end up losing money and time. The average time it will take to correct this mistake is 1-2 months. These small mistakes can be even more troublesome than filling out the original application. In order to fix this, you must request a PIN and comply with any other mandatory regulations.
At DOT Operating Authority, we understand this can be a tedious and confusing procedure, but we're here to make things easier for you! There's no need for you to tackle this alone. Trust us, we're a one-stop resource for all your licensing needs! Get an active DOT number in under one hour by filing with us! Call now to start the process today!
Still have questions? Call us now at (888) 669-4383 or send an email to info@dotoperatingauthority.com. DOT Operating Authority agents are eager to answer any of your questions or concerns.