IRP Registration – International Registration Plan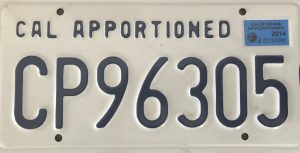 The IRP (International Registration Plan) is a reciprocal agreement which permits the proportional registration between states (jurisdictions) of the US, the province of Canada, and the District of Columbia. According to the plan, if the truck owner functions his vehicle in various jurisdictions he must yearly report the driven mileage in each jurisdiction. As a result, the drivers or carriers should pay the taxes based on the driven mileage. The main objective of the International Registration Plan is to encourage and stimulate the highest possible use of the highway system.
Who is required to register under the IRP?
You should register under the International Registration Plan if:
your truck has 2 axles and a gross vehicle weight or registered gross vehicle weight in excess of 26,000 pounds; or
it has three or more axles, regardless of weight;
the vehicle is used in combination when the gross vehicle weight of such combination exceeds 26,000 pounds;
optional: trucks or truck tractors, or combinations of vehicles having a gross vehicle weight of 26,000 pounds.
Qualifying for Apportioned Registration
To Register under the provision of the IRP:
you must have an established place of business in California, where mileage is accrued by the fleet,
each fleet must consist of one or more commercial vehicles, operating interstate.
NOTE: Vehicles operating INTRASTATE ONLY, do not qualify for Apportioned Registration under the IRP.
How to calculate IRP fees?
Table 1 which we represented below indicates the sum of the Declared G/CGW Fee + CVRA Fee + CTIP Fee. Also, if you want to get the total California registration fee you should Sum the Declared G/CGW Fee + CVRA Fee + CTIP Fee (see Table 1) as well as the vehicle license fee (see Table 2). In addition, for calculating the apportioned regulation fee you should multiply the total California fee by mileage percent.
Let us help you comply with the IRP
Are you concerned about how to register under IRP? It's not a problem as DOT Operating Authority will help you solve all the issues related to your registration. We are here to help you get the right insurance policy. Furthermore, we have many years of experience in the trucking industry. Moreover, we are professionals at supporting trucking corporations, motor carriers, agents, and other industries who use commercial vehicles. Our team will be happy to handle your paperwork no matter if you drive within or across the borders of the US. We can also assist you with the International Registration Plan registration or updates, as well as other matters.
Call us today and let us help you develop your business. We are looking forward to hearing from you!