What Is An IFTA Sticker?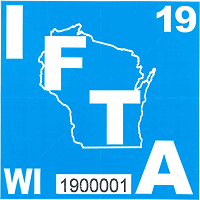 You got your IFTA license, now what? In addition to your IFTA license, you will be provided a set of calendar year decals. These decals will be for all the qualified vehicles in your fleet. It is important to make sure there is a copy of this license in each of the vehicles in your ownership that qualify.
Where Do I Place My IFTA Sticker?
You must attach one sticker to each side of the vehicle's rear, in the lower corner. For buses, please place one sticker on each side, no further back than the back of the driver's seat, at eye level from the ground. If you do not display the identification stickers in the mandatory placement sites, you may account for a fine or penalty if you do not carry a copy of your valid IFTA license. In addition, you also may face a charge that includes the seizing and selling of your vehicle.
Most Ifta stickers for the same year are identical. Therefore, you may place any set of decals you are issued on any qualified vehicle in your fleet.
What is the Expiration Date and Renewal Period for a IFTA Sticker?
IFTA Stickers expire on December 31st of each year. You have until March 1 of each year before you must carry a current IFTA license. You must also display the current year's stickers on each of your vehicles. This is if you have applied on time to renew your IFTA license and your account is in good standing . During January and February of each year, a valid IFTA license and decals from the previous year will be honored by IFTA member jurisdictions in lieu of valid, current-year IFTA credentials.
How Much Does An IFTA Sticker Cost?
The annual fee for a California IFTA license is $10.00. This license covers all of your qualified motor vehicles. In addition, there is a $2.00 per-set charge for annual IFTA decals. You will need one set for each qualified motor vehicle you operate in IFTA jurisdictions.