Freight Forwarder vs Freight Broker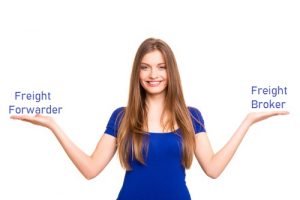 The freight business involves the transportation of goods and materials and while we only pay attention to the trucking companies, there are other entities that play a very important role. These other businesses are middlemen or intermediaries, also known as freight brokers and freight forwarders. They can seem to be the same but, in some cases, they differ.
While a freight forwarder possesses consolidation, transportation, and insurance of the freight, a freight broker never takes possession of items that are being shipped. It is one of the main ways they differ. Although both are legal and legitimate services, freight forwarders have a statutory freight claims liability, which means they are liable and responsible if something goes wrong with the freight.
If you want to become a freight forwarder or a freight broker, certain documentation is needed from you. Both authorities are required to be registered. You can contact our DOT Operating Authority process agents for help. Get in touch with us and one of our representatives will answer all your questions concerning the registration. But, first, let's find out what a freight forwarder and freight broker is, and their differences.
Freight Broker Responsibilities
Like any other broker, freight brokers function in bringing together a buyer and a seller. The "buyer," in this case, is the shipper, and the "seller" is the trucking company, also known as a carrier. The broker negotiates the terms of the deal and handles much of the paperwork. In addition, with the proper industry knowledge and contacts, a freight brokerage business can operate out of a small office.
Freight Brokers:
Arrange transportation whether road, rail, or sea with a carrier, either on behalf of the shipper, consignee, or freight forwarder.
Connect cargo owners to shipping lines and vice versa, and works on a commission basis.
Outsource all the activities associated with the transportation such as transport, and insurance.
Do not own their own bill of ladings like some Freight Forwarders may do.
Freight Forwarder Responsibilities
One of the most important things that freight forwarders do is they essentially secure the business of various exporters and importers. They also:
storage cargo belonging to the clients at their warehouse
arrange the distribution or "forwarding" of the cargo as per the instructions of their client
negotiate freight rates with the shipping line to cover the interest of their clients
book the cargo with the shipping line as per the requirement of the client
prepare a bill of ladings and associated shipping/negotiating documentation
issue their approved house bill of lading as applicable
MAY or MAY NOT also do Customs Clearance
may or may not be accredited to customs, port, etc., and cannot do customs clearance if not accredited
Let's Compare Freight Forwarders with Freight Brokers
| | |
| --- | --- |
| Freight Forwarder | Freight Broker |
| is responsible for the transportation of goods from the place of receipt to the destination | outsources all transportation activities and are never actually in possession of the goods |
| typically has a warehouse where cargo can be stored, assembled, and consolidated | can work out of a small office or even operate remotely |
| are on the Bill of Lading, which, serves as a receipt of shipment, and therefore requires carrier insurance as they are liable for all goods described in the Bill of Ladings | are not listed in this legal document |
A Freight Forwarder has additional legal requirements for registration including carrying cargo and garaging insurance policies equal to at least the minimum coverage amounts as required for carriers. When becoming a Freight Forwarder an authority is needed, it is known as the FF Number.
Register with DOT Operating Authority
It doesn't matter if you want to become a freight forwarder or a broker, in both cases, DOT Operating Authority will help you get your Surety Bond or Trust Fund Agreement paperwork done in an easy and efficient way! We will give you all the information concerning your forms and will do all the filing for you.
Call and talk to one of our experts. Our team is looking forward to assisting you!