¿Qué es el permiso de distancia de peso de Kentucky?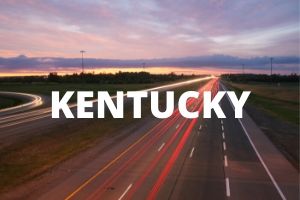 The Kentucky Weight Distance Tax (KYU) is calculated based on the number of miles your vehicle travels through Kentucky. If you operate a vehicle with a licensed weight greater than 59,999 pounds through Kentucky, you must obtain a one-time temporary KYU permit or file the Kentucky Weight Distance Tax. Both of these can be obtained by contacting DOT Operating Authority. Our filing agents have years of experience helping heavy vehicle operators file their paperwork. We help you save time in order to get all of your filings done on time.
Below are the Official Due Dates for Kentucky Weight Distance Tax Filing:
It is important to note that the KYU mandates that carriers file for each quarter regardless of whether they have traveled to Kentucky for that period.
1er cuarto
2do trimestre
3er trimestre
Cuarto trimestre
Enero,

Febrero,

marzo

Se vence el 1 de abril, tarde el 1 de mayo
Abril,

Mayo,

junio

Vencimiento el 1 de julio, tarde el 1 de agosto
Julio,

Agosto,

septiembre

Se vence el 1 de octubre, tarde el 1 de noviembre
Octubre,

Noviembre,

diciembre

Se vence el 1 de enero, tarde el 1 de febrero
Número de KYU
An IFTA license must be filed in Kentucky if a motor carrier is based in Kentucky and operates one or more qualified motor vehicles in at least one other IFTA jurisdiction. It is required to obtain a trip permit through member jurisdictions for IFTA qualifying carriers that do not want to participate in the IFTA program, according to the regulations and fees of each member jurisdiction. If a carrier does not operate outside of Kentucky, then they may get a Kentucky Intrastate Tax (KIT) license instead.
Requirements to Obtain Your KYU Number
There are a number of requirements that you must meet before obtaining your KYU number. First, you must register as an interstate carrier via your USDOT number. Second, you must have an "active" MC number if you are for-hire. Lastly, you must have obtained a UCR (Unified Carrier Registration) for your company. You will be unable to file if you do not have a current-year UCR on file.
Once you receive the KYU number, you must file your KYU taxes quarterly and in a timely manner in order to keep your authorization active. DOT Operating Authority is a licensed agency that helps motor carriers obtain all weight-distance tax registrations. All quarterly reports are due on the last day of the month following the end of the quarter.
If You Fail to Meet the Filing Requirements
Failure to file your 1st quarter taxes for KYU will cause you to lose your KYU license if you don't pay the required taxes immediately. If your KYU license is canceled, then motor carriers are required to pay a failure to file fee and post a bond to reinstate their license.
La autoridad operativa del DOT puede ayudarlo a obtener un permiso de impuesto de distancia de peso de Kentucky
We here at DOT Operating Authority process all registration paperwork for your business. Our agents have years of experience filing all registrations for motor carrier authorities. We are experts in the trucking industry. We help truckers, brokers, motor carriers, and other businesses that utilize heavy vehicles.
Visit our sister site today to get your KYU or KIT number in minutes!